WYP - World Year of Physics
proclaimed by the 58th General Assebly of the United Nations
and officially endorsed by UNESCO's General Conference 2003.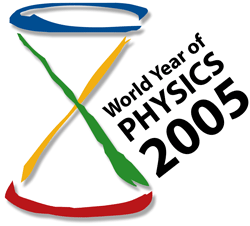 For more informations see www.wyp-2005.org home page or the best site, www.physics2005.org.
Other related links:
Invitations
Suggestion
If you wanted to collaborate with me on preparing this pages, you should contact me by email at jirotka <at> fyzika <dot> net. Thanks a lot!

Powered by Linux, edited by vi.
Copyright © Tomas Jirotka 2005.